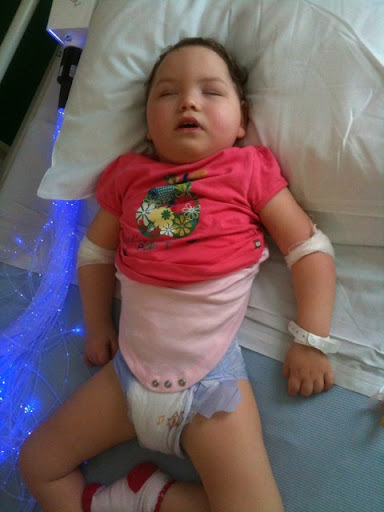 Everything's gone as well
As it could go. We've been well looked after, and Hope was even supplied with some fibre optic lights to play with. We had a slight hiccup in the beginning as Hope started coughing and sneezing just as the doctor came to see her. Then the doctor was then considering postponing the tests until she was better. But as I said to her, since November-ish I think, Hope seems to have come down with various viruses and infections one on top of another, so getting another appointment that coincided with a 100% well Honkey, may be tricky! After a thorough going over of Hope, she said she was reluctant to use the planned iv sedative that would have kept her asleep, but also carried a greater risk of respiratory depression, and would only use an oral sedative that wouldn't completely knock her out, but just make her a bit drousy. I did go
With her for her last lumbar puncture, but kind of assumed I'd not be able to here. The nurse asked if we wanted to go in with her, or offered the services of a play worker to comfort hope. As awful as they are to witness, I felt that the least we could do was to be there to comfort her.
Though she'd woken by the time of the procedure, she was still drousy, she gave a little fight as they tried to get her into position, and cried a bit as they took the spinal fluid, it was far less traumatic than her previous lumbar puncture. After that, 2 doctors and 2 nurses spent over an hour trying to take blood. Hope was fairly patient with them all pricking her trying to get the good veins. They took FOURTEEN vials of blood!
After that we went back to the ward. Hope had her vigabatrin in some custard (5 hours late due to fasting for the sedation). They were pleased with her recovery and that she was again alert and had eaten and not been sick. So as soon as she pees, we are free to go. They'd put something in her nappy when we first arrived to catch a sample of urine. It's still dry! We've been here since ten. We have been sat just waiting for her to pee for a couple of hours now. We keep checking and hoping...
C'mon Honkey.... Please just PEE!!!!!