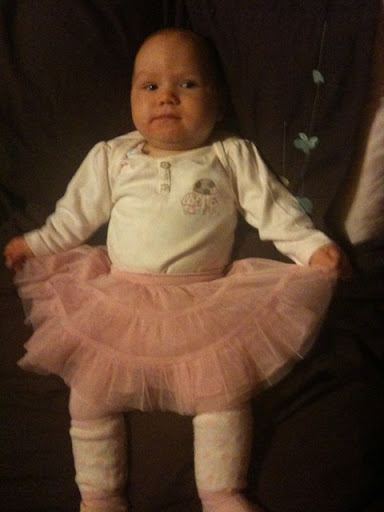 I wonder how Many other 8 month olds have been to the cinema 4 times! Today Hope went to see Fame! She was so excited that she woke at 4am and didn't go back to sleep till 9. Mind you, this was a good nights' sleep for us both 11:30-4:30: a whole 5 hours stretch which is pretty amazing compared to most nights when she wakes every hour. This morning Honko clearly felt well rested because she was sooooo alert and playful. She was really paying attention to her light up toys (it was still dark, though we saw it get lighter). She was also using her hands a lot; Grabbing onto things and touching me. Not sure how intentional these actions were, but definitely a step in the right direction.
The antibiotics have kicked in, and she no longer has a leaky eaky. She must have been feeling rotten, and now much better. It's so good to have her back to her happy self. Today she's been happier than she's been in weeks. She hasn't even cried all day!
Hope dressed appropriately for today's film: Leg warmers! (see photo). As always Hope was beautifully behaved. I think she really enjoys the cinema. It must be the dark, with the light of the big screen and all the noise. Oh and maybe the milkybar buttons she had today.
As usual she let out a few excited shouts, but no crying.
Today Hope tried a new food. Avacodo. Of course she ate it all up. I am yet to come across a food she dislikes *touch wood*. she also had some sweet potato (one of her favourites), followed by a milky bar dessert :0) mmmmm.
Today I have enjoyed my honkiplops soooo much. We just had a bath, she's just having a feed, and we're all gonna watch Xfactor. Sometimes it feels like I have it all ...
Xxx